Dating sites are trending these days. Many Online dating portal making huge ammount of money from their online dating sites. If you also thinking to start a dating Portal then here We have added some top selected wordpress dating themes to build your dating portal with ease.
Top WordPress Dating Themes
Sweet Date
SweetDate is an unique, clean and modern Premium WordPress theme. It is perfect for a dating or community website but can be used as well for any other domain. We added all the things you need to create a perfect community system. Although at first we designed it to be used as a dating theme for WordPress, Sweetdate can be customized to match any business domain.
Price: $59
LoveStory
LoveStory is a perfect theme for any dating or community website. It's not just a theme, but application with awesome built-in features, such as membership fees, virtual gifts, chat messages and more.
Price: $59
Wedding Industry
Wedding Industry is an elegant theme for future spouses ( groom and bride ),Or For a Dating Site. It is a clean and one/multi pages website theme. Theme is designed to give all the information to wedding guests/Dating Coules. The site fits for Couple, Save The Date, Engagement, Wedding Event and any kind of wedding activities.
Price: $49
Pet Club
Pet Club is an ideal WordPress theme if you seek to build a website for pet store, veterinary clinic, dog training classes, animal shelters and pet hotels, dog / cat trainers, or pet caretakers, as well as adoption centers or animal community, including animal dating club!
Price: $59
Dating Theme
The Dating Theme for WordPress offers all the features and options you need in order to launch a full featured dating or matchmaking website. While many of the dating website templates on this list have concentrated on functionality over form, this theme looks like it was created for any enterprise level dating services company. It offers clean lines with thoughtful use of featured content and natural feeling menus to draw the user along to actionable pages. Online payments are accepted, and the 100% opensource code means that even experienced developers can get in there and make their own websites. A favorites list is ideal for your users, and the gifts and winks enable other users to let people know that they are looking to interact.
Price: $79
Mingle
Mingle is a popular multi-use social network theme that allows for creating many types of social and community websites including a dating site. Like Sweet Date and several other themes on this list, Mingle is built on the BuddyPress plugin from AutoMattic. BuddyPress makes setting up a complex social website simple. With it comes the ability to create groups, chat forums, friends, and communication though private messaging.
Price: $64
KLEO
The KLEO theme is a beautiful social networking and dating WordPress theme that offers both beautiful layouts, and great turnkey functionality. Take the time to look over the full range of demos that are available via the demo button below. You will find layouts including full screen banners and slideshows, fit-to-fill full page landing pages, portfolio-style tiled grid layouts, and traditional business frontpage options. The theme fully supports the BuddyPress plugins so setting up dating website features like groups and profiles is built into the plugin interaction.
Price: $64
Razor
The Razor WordPress theme is a wonderful tool for building a new dating website, since it's compatible with both bbPress and BuddyPress, for building a community on your site. The clean and professional design works on all tablets and smartphones, and the modern features make it easy for any advanced or beginner developers to build a website.
Price: $64
Love Hearts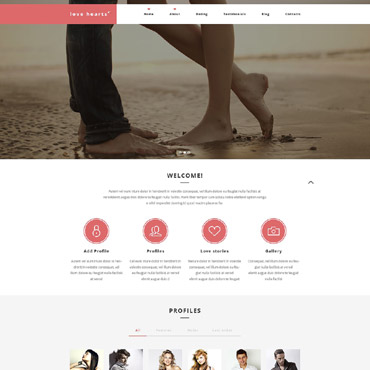 The Love Hearts theme has a name that screams dating site, and it serves its purpose well, with a beautiful red and white color palette, and a responsive design for working on numerous devices. The fully editable theme has a strong control panel for moving items around, uploading logos and sharing content about your dating site. The custom post types and formats ensure that your branding is truly unique, and the over 80 shortcodes make it easy to implement design modules throughout your site.
Price: $75
Love Romance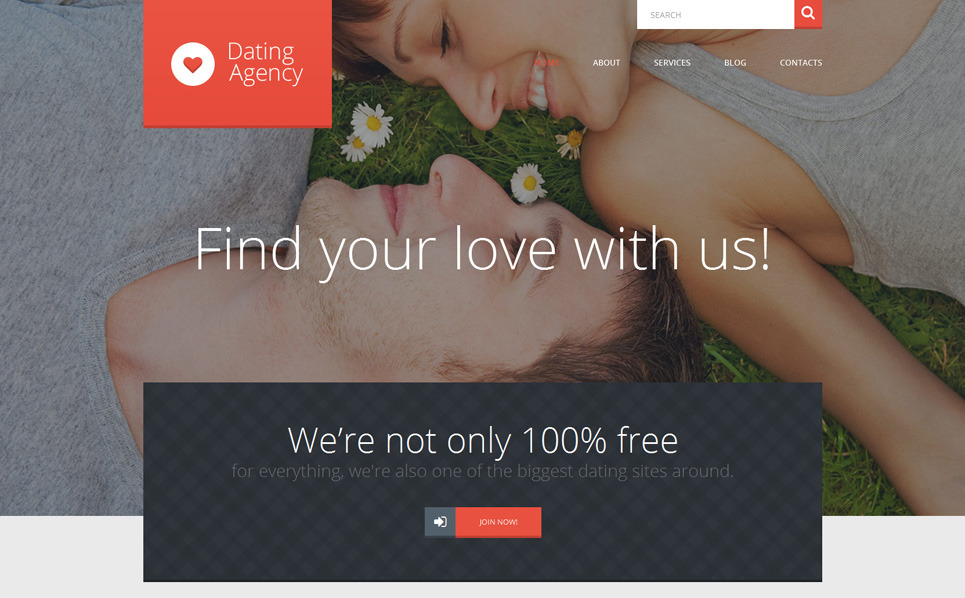 The Love Romance WordPress theme is all about helping people build a website for selling dating services or bringing people together online. The design is responsive for viewing on tablets and phones, and the custom post types work well for making your site look unique. Not to mention, the over 80 shortcodes help you quickly place generally complicated design components without any experience at all.
Price: $75
Online Romance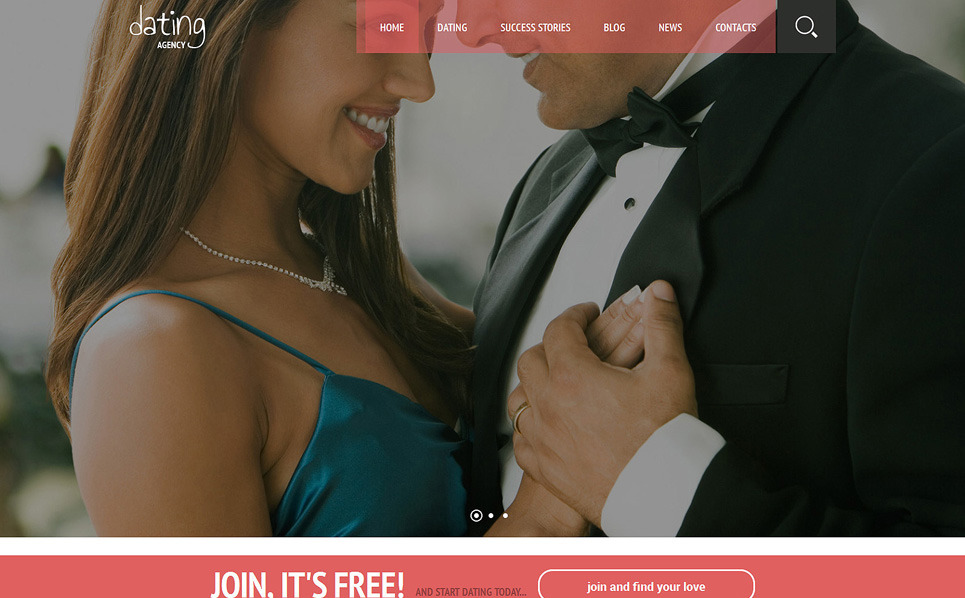 The Online Romance theme says quite a bit in its name, and it lives up to this name, since the theme provides a way for you to generate a site for a dating agency. Your users can sign up with a profile on your site and start searching for people that they may want to meet up with later. Share success stories, include a contact form and even incorporate a blog for offering tips and other fun stuff. The theme comes in a red color, and it gives your users a way to view pictures of other people who have found the right person.
Price: $75
Dating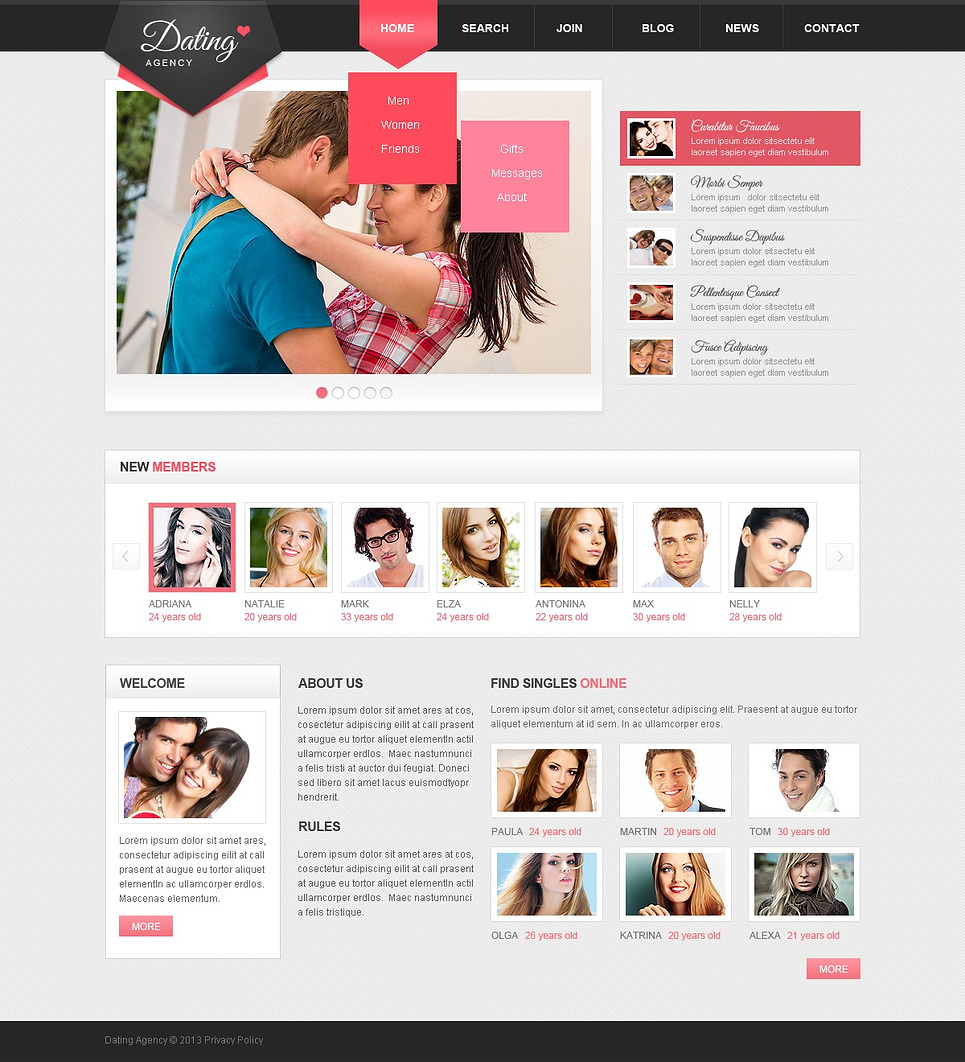 The Dating Responsive WordPress Theme 49677 is another variation of the previous theme, and it has many of the same features. However, the look is a little more romantic and feminine, which should work for many dating sites and companies out there. The theme includes social media integrations, and you receive a beautiful navigational menu for sending people to the right areas of your website. The background area is interchangeable, and you can place some overlaying text and a call to action button right in the header. The primary goal for this theme is to ensure that dating sites have the proper tools for making money and nurturing relationships.
Price: $75